8" Bass Speaker Saddle Bag Lids for HD Touring Models
| | |
| --- | --- |
| 8" BASS HD TOURING SPEAKER LIDS | CUSTOM HD BAGGER SADDLE BAG SPEAK LIDS |
| | |
| --- | --- |
| 8" SPEAKER LIDS SHOWN WITH BASS SPEAKERS INSTALLED | SIDE VIEW OF HARLEY 8" SPEAK LIDS WITH SPEAKERS |
#HD8BASSLIDS 8" BASS / SPEAKER LIDS FOR HD TOURING BIKES WITH HARD BAGS
* Great to customize your bagger with a huge bass sound.
* Hand laid fiberglass construction
* Raw white gelocat finish
* Fits std or stretched HD hard saddle bags for harley touring models 94 TO 13
* Uses std HD hardware but requires modification to the lid support strap
* Includes 4 glue on tie down lugs for support strap.
* Lids are uncut, - must be cut to fit your desired speaker. Speakers not included.
* Requires the use of a jig saw with a metal cutting blade to fit speaker.
#HD8BASSLIDS -- COST $350.00 1 Pair
______________________________________________________________________________
6x9 Frenched In Speaker Lids With Aluminum Grill for HD Touring Models
#HD6X9LIDS HD TOURING 6X9 SPEAKER LIDS WITH GRILLS, 1 pair of lids, grills included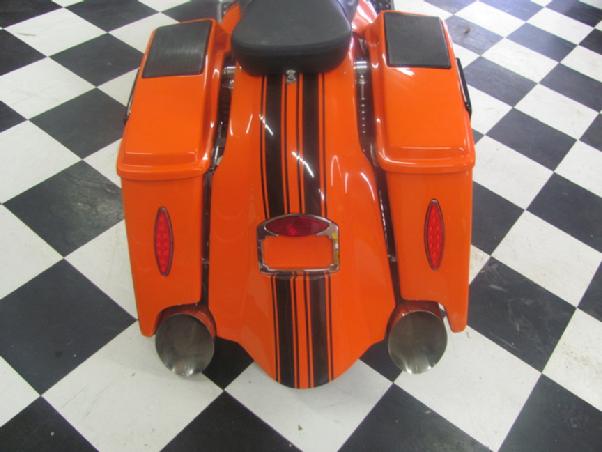 PHOTO ABOVE SHOWN THE 6X9 SPEAKER LIDS WITH SPEAKERS INSTALLED AN THE GRILLS PAINTED BLACK
______________________________________________________________________________
| | |
| --- | --- |
| HD TOURING BAG LID WITH FRENCHING FRO 6X9 SPEAKER, Speakers not included | ALUMINUM GRILL INCLUDED, Grill can be painted or left natural |
HARLEY SADDLE BAGS LIDS WITH FRENCHED IN 6X9 SPEAKER RECESS, ALUMINUM GRILLS INCLUDED, Fits HD Street Glide, Electra Glide, Road kIng, Road Glide and Ultra's, all touring models with hard bags 1994 to 2013
* Hand laid fiberglass construction, raw white gelcoat finish
* Frenchings made to fit std 6x9 speakers, marine speaker recommended
*Aluminum flush mount grills included, can be painted as you desire
* Requires standard HD hinges and latches
* Requires drill and fitting to bags before painting
#HD6X9TLIDS COST $350.00 PER PAIR
8" WIDE EXTENDED BAGS SHOWN WITH FRENCHED IN 6X9 SPEAKERS
______________________________________________________________________________
OLDYS CUSTOM COMPOSITES
811 BLACK FOREST ROAD
HULL, IOWA 51239 -U.S.A.

FEEL FREE TO CALL US WITH QUESTIONS OR TO ORDER
AT PHONE # 1-712-439-3301
or
1-712-439-1249 FAX
or
email at oldinc@rconnect.com
Website powered by Network Solutions®